Scenes from certain science fiction movies depicting driverless vehicles that beam directly to their destination are heralding what is becoming an ever increasing reality.
While it is impossible to know if we will ever have flying cars in the future, road transport studies have managed to predict how much quicker, more affordable, autonomous and environmentally-friendly they are going to be.
This comes as no surprise, considering how the construction sector and transport policies worldwide are aimed at respecting the environment and being much cleaner. Means of transport and the fuel used must therefore also follow suit. Hence, the importance of autonomous or electrical vehicles.
So, what is the goal of all of this? To provide more affordable, tailored and quicker solutions. These just happen to be the three key points of road freight transport.
Truck platooning
Also known as road trains, truck platooning is one of the types of road transport backed by major heavy duty vehicle manufacturers such as Volvo, Scania and Man, as well as those responsible for transport in different countries, such as the Directorate General of Traffic in Spain (which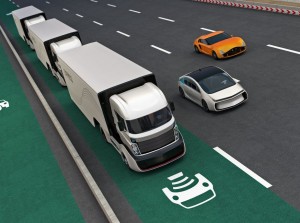 sings the praises of the benefits offered by this type of road transport system) and countries such as Japan, where there is a serious push towards the implementation of truck platooning due to a shortage of truck drivers.
What exactly does truck platooning involve? It consists of a group of trucks, like a train with different wagons, the first of which indicates the route to be taken while the rest follow behind, in an autonomous fashion. All the trucks are connected together.
But what are the benefits of platooning becoming one of the transport means of the future? First of all, in how it involves the consumption of less fuel due to not having to deal with wind resistance, which in turn makes the system more sustainable, as they emit less pollutants. This also means that the transport is cheaper both for the company and for the client making the order.
This means of transport is also much safer for truck drivers, as well as for vehicles travelling alongside them, reducing overtaking and sudden acceleration, therefore leading to fewer traffic jams and accidents.
Cost-cutting automatic trains
One of the problems associated with the desire for rail freight transport is the high costs. However, this will no longer be the case in the foreseeable future, thanks to high-speed automatic trains.
These will ensure quicker arrival times, as well as greater flexibility, where a company can rent a wagon without having to pay for the whole train. Each wagon will be independent, with freight charged on a mechanised basis.
This therefore leads to savings in both time and money, while also improving the environmental level, thanks to the fact that this type of transport uses fuels such as natural gas. This is also being used in countries, including the United States, while many companies across Europe are already trying it out.
Multimodal transport
Another future trend in terms of road transport is the promotion of multimodal transport, which we at Bilogistik have already been doing for several years now, allowing for cost-saving and more effective solutions for our clients.
While this is by no means a new type of transport, it is experiencing a boom in the past few years and becoming more popular.
It leads to less congested roads, and ensures that there are no problems in completing the door-to-door service. This is a must, bearing in mind that truck transport is expected to increase by 40% by 2030. In this regard, multimodal transport allows for the more efficient and competitive transport of goods.