---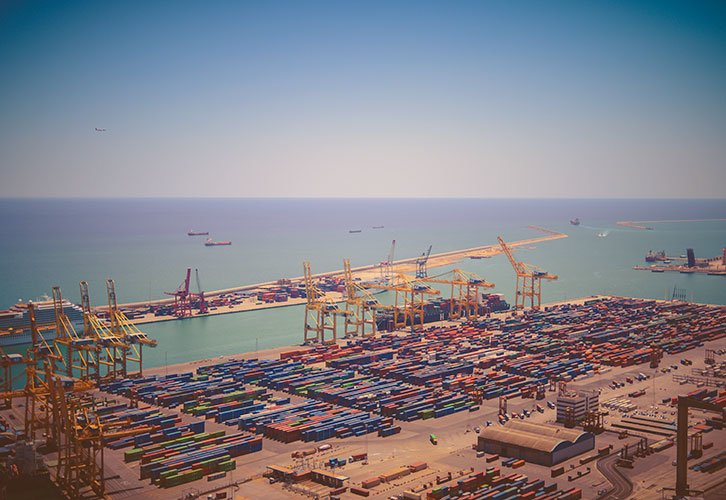 What is a multi-modal transport service?
According to the United Nations Convention on International Multi-modal Transport, international multi-modal transport is a type of transport involving at least two different means of transport, through one contract between the parties (known as a multi-modal transport contract).
Namely, this is a type of transport where the user contracts a logistical operator to transport cargo from the point of origin to its final destination, where more than one type of vehicle is required. The operator is responsible for coordinating the different modes of transport in order to complete a delivery from door to door. Apart from using different means of transport, there are two more features that are required in order to be known as multi-modal transport:
The use of a single transport document, the FIATA Bill of Landing (FBL), unlike inter-modal transport, where a document is issued for each means of transport.
There should also be no cargo breaks, or where the goods are separated during the journey.
Due to the above, multi-modal transport is associated with the appearance of cargo units that can be transported in different means of transport without any cargo breaks. Some of these units are the container and the swap. The container is a cargo container that enables land and sea transport. It is characterised by being watertight and protects against any inclement weather. The containers are also standardised according to standard ISO 668.
The swap meantime is a cargo unit for the transportation of goods with the proper size for train and road transport. It differs from the containers in that it is not adapted to be transported by trucks, while the swap is.
Why use multi-modal transport?
Let's look at the example of the sea transport of goods. A large cargo ship cannot enter small ports to collect goods, as the shallow water would make this very difficult, as well as not being very cost or time-effective. It is therefore necessary to convey the goods to major ports from these ports or interior areas, which are themselves prepared to accommodate these ships, both in terms of water depth and port infrastructure. The goods are therefore transported from the point of origin to the port using train or road transport, since certain ports have their own train terminal.
Similarly, there may be a need for a combination of train and road transport for a range of reasons. We may also add the option of air transport which is perfect for the express transport of goods or urgent deliveries.
Benefits of multi-modal transport
One of the benefits of multi-modal transport for contracting companies is the existence of a single representative for the entire process, without the need to contract different logistical operators. This therefore involves lower administrative costs, owing to only having to enter into one contract, as well as reducing the likelihood of encountering communication issues at any transport point.
Thanks to being controlled by one operator, there is a visible reduction in the likelihood of the goods being lost, where the delivery date is much more certain, thanks to the fact that only one operator is contracted for all of the transport required for the same.
Due to the fact that there are no cargo breaks, there are less handling costs and time.
The logistics operator is the party that will advise us on the route or combination of means of transport that is the quickest and most competitive for our delivery, thus reducing costs and timeframes.
This makes it easier to track and trace the goods.
In short, multi-modal transport is very useful in cases involving the transport of goods internationally, thanks to the added bonus of a reduction in costs entailed from the signature of a single contract, due to only one logistical operator being involved. Quick delivery as well as lower costs enable the multi-modal transport user to offer its products at a more competitive price as well as respond more rapidly to market demands.
CONTACT US
Contact us for any doubt, suggestion or request. We will contact you as soon as possible.